Well life has been going by rather quickly. Most days I'm out by 5am and typically going nonstop till late. I feel as though there are not enough hours in the day to do everything I need to do or want to do ie. my blog, but considering it is my 3 year blog anniversary, it is a good time to post again.
I'm not a famous blogger nor is my blog monetized, nor do I have 1,000's of followers, I'm just a blogger who likes to share her heart, and random thoughts and such. I only hope that on occasion something I post helps someone else…or makes someone else not feel alone in whatever is going on in their life.
A little update of what has been going on the past few weeks. I adopted Bella-Boy the cutest kitten, from David (Sierra Rescue) he discovered a litter under a large trash container at his business. I don't plan to make my blog a "kitty" blog so if you to have a soft spot from kittens, follow Bella-Boy at Bella.boy @ instagram.
My son Reggie is graduated this past Sunday from Cate School, I'm happy and sad- happy to see him go to the next phase of his life and sad to see the end of his childhood cycle. He will be going to Bard college in upstate New York, our summer will be a quick one, move in is August 8th. We are proud of him and all that he has accomplished in his 18 years. College is a new beginning to the rest of his life.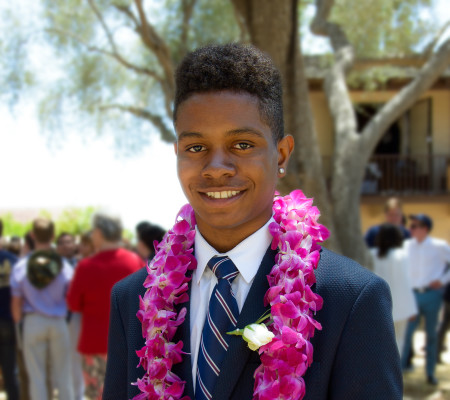 And lastly we have made a commitment to be gluten free, a couple of years ago when we were practicing a raw vegan diet, we were by default gluten free (btw felt so much better) so a week ago we decided to try to cut out the gluten. I had an appointment with a new doctor for my annual checkup, my old doctor was horrible but I kept going to her because I was not proactive in securing another. Dr. Christine Collins and I hit it off, and she asked if I was familiar with the book Wheat Belly, I had heard of it but had not read it. So she started talking about wheat and gluten and health…everything make sense. It has been an adjustment, I'm convinced there is something in bread that is seriously addicting.
I must say I do feel better, and have dropped a couple pounds as well, I'll be posting a few recipes soon.
So thank you friends for stopping by for my sporadic posts, thank you for your comments and your support. I'm looking forward to another year, not sure will it will take me, but I will continue to share my thoughts and my heart.
So I will leave you with this quote I stumbled upon, it really spoke to me, because when I started my blog, I didn't have a plan, I didn't know where it would go, I just started one day. So if you are hesitating about something just "begin anywhere"…
xoxo,
Gigi
Related articles