Saturday Reggie and I got to escape our valley abode and travel west to Santa Monica and join our friends at the 4th annual Face Forward Gala, the theme "A Gatsby Affair". The gala did not disappoint, everyone was decked out in their interpretation of 1920's glamour, a silent auction with a bevy of items, an exciting live auction, beautifully decorated ball room, exquisite centerpieces, delicious meal, hosted by Sara Rue, performances by Stacy Francis and Macy Gray one of my favorites performers.
Face Forward was established in 2007 by Deborah Alessi and her husband Dr. David Alessi, to provide pro-bono physical and emotional reconstruction for women and children victimized by domestic violence. I have attended the gala every year, this being the first time on the committee. It was nice to see all the hard work come together on this magical evening.
One in a least three women in the world are victims of domestic abuse, which means all of us know or indirectly know a woman who is being physically abused, it may be a family member, co-worker, neighbor, teacher, friend, church member, domestic abuse has no boundaries.
At a young age I was the victim of domestic violence by a "boyfriend" , I remember being ashamed and having no one to talk to, the abuser was constantly threatening me of more consequences if I told anybody. Finally one day I "snapped" and pulled a butcher knife on him, and for those brief moments I knew I was capable of causing severe bodily harm ie "killing a M-F", fortunately for me that was the last time I ever saw that ass hole and I never was in another relationship like that again. So of course this charity is close to my heart  because I knew I could have been one of our patients.
One of the things I love most about galas is getting dressed up, I'm a girlie girl at heart. So I was excited about the 1920's theme, a new ensemble was not an option so I was up for the challenge of shopping my closet. So of course I was happy when I found a BCBG dress that I picked up at the outlet, and I paired it with a Tracy Reese top I got about 5 years ago, threw on a pair of Giuseppe Zanotti's, converted an Anthropologie head band with a $5 hair thingy from my local Halloween pop up store and I was good to go.
Now my hair, that was another story, I knew I did not want to sport my "big" hair, so I decided to experiement, so I washed it, added a lot of tresemme natural conditioner and detangled, followed by deva one leave in conditioner, curl junkie styling creme and a generous amount of eco protein styling gel , sat under the dryer for about 30 min to set it and then pulled it back into a low side bun using a donut thing to shape my hair which worked perfect.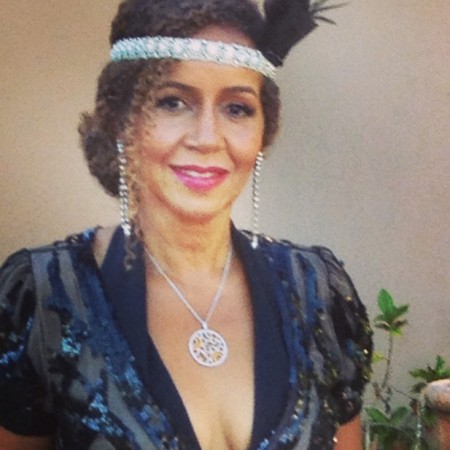 I'm already looking forward to next years Gala.
Xoxo,
Gigi
Related articles