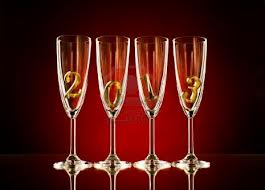 Happy New Year, Everybody!
The past year had some exciting moments, as well as a few setbacks. I am welcoming 2013 with open arms. For many the New Year is a time for renewal, a chance to start over. I think about all the things that have happened this past year, my daughter graduated from college, the start of Gigi's Meanderings, our family trip to South Africa, a few of the highlights. 2012 also had a few challenges, my breast cancer scare and helping my daughter relocate to New York City.
While I'm not a resolution kind of girl, I do like to embrace a theme for the New Year. My theme for 2013 is "Making each day count". What this looks like to me: Taking time daily for simple rituals that enrich my life and the lives of my family and friends. We live in a society where everything is rushed, between texting, emails, facebook, instagram etc. we are getting away from traditional forms of communication. We have hundreds of facebook friends, but when was the last time you had tea with a friend, just because? Spent a few hours with a friend doing nothing? Pulled off the road to take advantage of watching a beautiful sunset? I will be sharing these moments with you and hopefully you will share with me and we can keep each other inspired and reminded to make each day count by doing something simple to enrich your day.
I celebrated NYE with good friends,lots of delectable tidbits and chilled flutes of bubbly. 9-ish my guests began arriving armed with beautiful desserts and savory appetizers, we had everything from black eyed pea soup to spinach balls. I made my favorite salad inspired from one I used to order from Marston's in Pasadena. It is always a crowd favorite.
Gigi's Marstons salad
spring mix salad greens, mandarin oranges, green apples cut into cubes, avocado cut into cubes, green onion, candied pecans, golden raisins, (optional feta cheese) toss with a poppy seed dressing.
I made tiares for all the ladies, should have took pictures of these, they were adorable. We toasted, listened to my mix and conversed and welcomed in the New Year. I love entertaining at home, and plan to do more little gatherings this year.
I look forward to blogging 2013 and sharing my thoughts and discoveries on living a rich fulfilling life.
Xoxo,
Gigi
As promised a few pics from NYE.