This was an incredibly busy weekend, so many events, I really had to juggle. My Saturday started off at an graduation, my friend Rosetta finished law school. We met when our girls were in preschool and I recall back then she was interested in law. I was so excited and happy for her, being a person who returned to school as an adult, I know it is not an easy feat to balance everything while being a full time student.
Rosetta won the Deans award and finished her program in 3 years. I have had quite a few friends that have returned to school and started new careers. It truly is never too late.
Rosetta and I many years ago trained for a marathon and raised money for TEAM in Training. We did the Maui marathon together along with our husbands.
Here I am at my "late" graduation from U.C.Riverside. I went back to school and finished my degree MANY years later. It was not easy going to school with students who were close to my daughters age, but I'm so glad I went back and finished my degree.  I will always continue to learn something…
Speaking of school, my next stop was at my elementary school reunion. I remember moving to California from New Jersey, it was a big adjustment, my parents had divorced, and we moved to a new place, and I started school at St. Albert, a catholic school in Compton. It was the first time I had ever seen an African-American nun, I was convinced that there was no such thing coming from a racist area in New Jersey. These friends were a big part of my life, so I could not miss this reunion.
We were all little 12 year-olds running around, now we are all grown up and that period of our lives is behind us, just a faint memory.
We were best friends…we shared so much and at the time we both were going through so much. Countless sleep overs, note writing, puppy love, and sharing our deep dark secrets, Anna and I had a lot of good times. It was nice to see her after 30+ years.
Next stop LA Curly Girl International Natural Hair Meet UP Day. I have been on my natural "hair" journey for about 15 years, what that translates to that I made a decision to stop chemically straightening my hair. It was truly a journey, one that I have never looked back on. Since I started embracing my natural hair I have watched an entire movement start, there are numerous products, hair blogs, video how to blogs, books and meet ups. I attended my first such event, and it was wonderful. I was in AWE of all the variations of "natural" hair do's all so beautiful. One of the highlights of the evening was when I won the "Wash N Go" contest! It was a fun evening and I am looking forward to the next one. Here is a snippet of the evenings festivities featuring CurlyKimmyStar a popular vlogger.
Sunday Jack & Jill Induction Ceremony. I have been a member of Jack & Jill for about 16 years. The organization is full of tradition, some of which date back to 1938 when the organization was founded.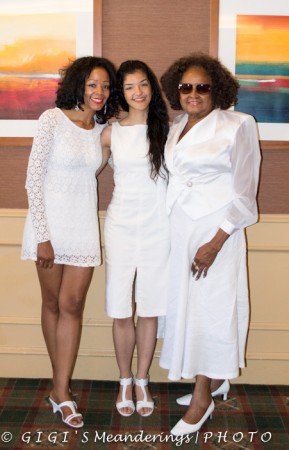 Finally the weekend ended with a date with my Sweetie…at our new favorite restaurant Baco Mercat.
Well I am glad this weekend has come to a close. I am looking forward to next weekend being a bit more leisurely. Hope you had a good weekend as well.
XOXO,
Gigi
Related articles