What an incredible evening! This was our first adult Halloween party since our "dating period" and that my friends was a looooong time ago. Our Halloween was always spent trick or treating in the neighborhood and or giving out treats. This year however we were treated to tickets to the 9th annual Muse Costume Ball at LACMA  which included a sneak peek at the upcoming Stanley Kubrick exhibition. We started our evening with dinner at Ray's, which was featuring a wicked halloween menu. This was my second time dining there and I love that the menu has a nice selection of farm-to table seasonal fare.
These two were our servers, dressed as the twins from The Shining.
With only hours to come up with a costume for the ball I decided on my version of a "dominatrix Goddess". I borrowed a long black cape from my friend Denise, used my black lace full body suit for my base, got a pair of black sequined shorts from TJ Maxx, black corset from my "pole dancing class", black lace gloves, over the knees black platform boots, a sassy "Rihanna" red wig, and my black fascinator completed the look.
Love this. The tables have silverware storage compartment drawers.
Wickedly delicious apple pumpkin soup.
Ray's perfect for lunch or dinner.
Everyone was in costume. I was amazed with the things people came up with. These are just a few.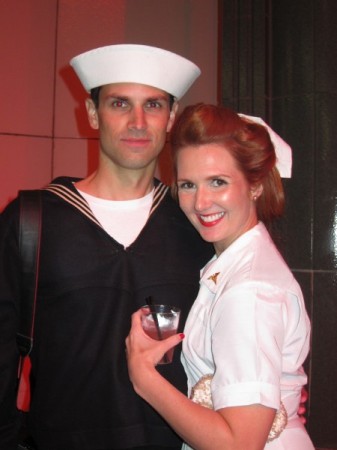 Related articles
There was a unique "photo booth", there was a bedroom setup where the photographer posed you and then your picture was projected on the wall, when I get our picture I will post.
Reggie had a blast dressing up and being my slave for the evening.
I had such a good time I am already thinking about a costume for next year.
Xoxo,
Gigi