After spending the summer of my 10th year in San Francisco with my great aunt Sally and uncle Henry, I fell in love with the bay area. The steep hills, crisp sea air, cable cars, shopping, dining, and the international feel of this charming little city, stole my heart.
Last weekend we celebrated my in-laws 90th birthday. We stayed in San Francisco at Hotel Palomar and had a blast, didn't even feel the 6.0 earthquake. My mother was traveling with us and even she liked the hotel, and she is not easy to please. This was my second time staying here and I will definitely be coming back. Short list of why I liked Hotel Palomar: the animal print robes coffee tea service and wine tasting in the lobby-complimentary the funky restaurant "Dirty Habit" free wifi interesting room decor i-pod player yoga mat right in the middle of the shopping district underground parking not to expensive-
We also had 2 fabulous meals…I'm paying for it now between Kauai and San Francisco I am on my "training" diet, but it was worth it! We had a really delicious lunch at A16 an Italian spot that was fab. Everything was so fresh and they were very accommodating with taking the meat out of certain dishes, which is always nice.Sunday we had dinner at Dosa, really good modern indian food–I had a watermelon salad that was incredible.
We shopped for school stuff for Reggie, and walked all over downtown, stopping off in the park to catch some music.
Here are some pics from the weekend- enjoy! Xoxo, Gigi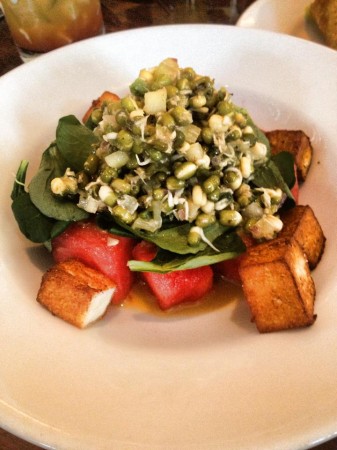 Related articles