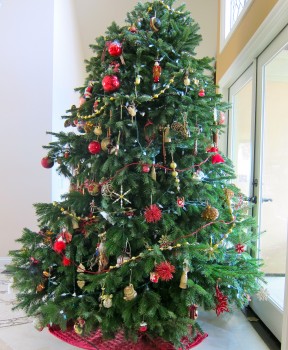 This year I focused on all of my red ornaments for this tree which is in my entry way. I try and do something different every year to keep it interesting.
I'm always looking for ornaments with African-Americans to add to my collection. I found this ballet dancer last year on clearance at Macy's.
 I'm doing closet shopping for a weekend of festive celebrations. While it is nice to shop for a special outfit, I find it more rewarding to shop my closet and reinvent something from the past. Also since I am the consummate bargain shopper, most of the things I buy are out of season, I may have a party dress that I picked up last year for little of nothing hanging in the closet ready for "its" debut.
Tonight is my Jack and Jill holiday party, Saturday morning my workout group "fifty days to fitness" hike, Saturday evening Reggie's fraternity Black tie holiday celebration, Sunday afternoon "girls" brunch, and Sunday evening, a tree trimming party. Needless to say, I'm excited about the weekend and I'm looking forward to reconnecting and celebrating with friends. What are your holiday plans? I hope your holidays are going smooth and you are making time for yourself.
Xoxo,
Gigi
I like to mix my holiday with my existing decor–I got this tall "lady" on my South Africa trip. This picture does not do her justice.
This tree is in the family tree, for this one I did a "blue" theme. I'm so glad that my local Home Depot had really nice trees for a good price. Over the years I have accumulated so many ornaments so it is never a problem decorating a few trees.
Every ornament has a story, this Obama ornament was picked up on my son's 8th grade east coast trip, I remember it was the last one-so happy it has a home on my tree.
I love this "Angel" she is so delicate…I'm surprised I still have her, every year somebody knocks her down and a little piece of her is chipped–no matter where I put her.
These angels are hand made in South Africa, we visited a craft center where all these beaded items are made–amazing.
Once again the juxtaposition of Kuba cloth and crystal.
Happy Weekend
Gigi