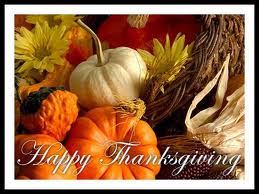 We are going to Reggie's family for the first part of Thanksgiving, and then we are driving another couple of hours to my Mom's to finish our celebration. I will make a long playlist for our ride. have a safe and enjoyable Thanksgiving with your family and friends. A few meanderings from around the web…
Do you really want to do this?
Stay at home instead and spend some time doing something for your body, take a walk and reflect on the things you are thankful for that have no price.
Love this song, perfect for your Thanksgiving playlist.
Being a vegan does not necessarily assure that everything is healthy, you still have to watch what you put in your body, and stay away from foods in a box with lots of stuff you can't pronounce. Read more here.
My daughter Amani lives in New York City, and attended college in Connecticut so she was always traveling during this busy weekend. So of course when I came upon this piece, it made me a little nervous.
Pretty table settings from HGTV
Funny piece about Thanksgiving conversation, What to talk about with weird, grown up cousins…
Enjoy your weekend,
Xoxo,
Gigi