Today after another strong cafe to start the day we walked around Viterbo for a bit, my son needed to pick up a few more gifts for his host family. I love the colors of the buildings, faded ocher, rose, and creamy whites so beautiful, the patina is spectacular. Everything has a history, and is not brand spanking new- all color coordinated like many of the communities back home.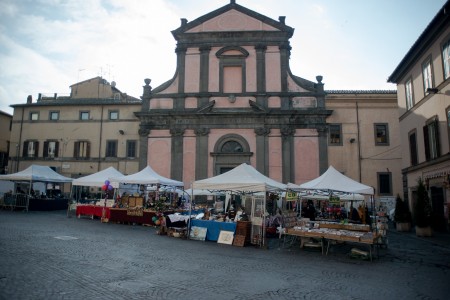 Once we were done we went to Reggie's "home" to say goodbye to his family, once we leave we will not be coming back to Viterbo, we return home on Sunday and Reggie continues on to Paris with classmates for the reminder of the break. Part of the School Year Abroad program is independent travel in small groups within Europe, once you are proficient in the language.
I was excited to see Reggie's home in the daylight. It is a strange feeling my little son living so far away for 9 months, so of course I wanted to see his abode, meet the guard dog that attacks visitors, see the 100 olive trees, the 3 cats, chat with his grandma and see his room again. He has grown so much in so many ways, not the child who I used to drive around all the time, he now goes to school on his own, has made a host of new friends, budgets his money and stays on top of his school work. Even though he goes to boarding school this is really different, when at home I can get to his school in under 2 hours, growing up is mandatory here.
We arrived in Firenze just before nightfall, thank goodness for GPS. The holiday decor at the 4 seasons is spectacular…
We had a nice dinner at a veggie friendly restaurant in the center of town, although I prefer a vegan diet when at home, when I travel, especially to foreign countries I am a little more accommodating, I admire my vegan friends who are able to make things work worldwide. I just try and politely ask for substitutions and pick and choose things that I'm going to be happy with.
Tomorrow a big surprise for my son, can't wait– until then Xoxo, Gigi
Related articles