Last week my son and I traveled east to visit colleges, seems like only yesterday I was enrolling him in pre-school.
I'm much more relaxed this time around, than I was with my daughter, the possibilities are varied and that makes the process interesting – the unpredictability of it all.
When I graduated back in the dark ages, I applied to two schools, Long Beach State and University of California at Riverside, I did the applications myself, filled out the financial aid forms, signed up for the SAT, which I only took once and I don't know if they had prep courses back then, but I was not in one of them.
Both my kids have this fixation with the east coast, so our journey started in Syracuse, seeing 2 schools a day, finishing in Rhode Island.  My trip was planned down to the minute, hotels, car rentals, restaurants etc., not that I'm a paranoid person, but I am aware of my "being" in  strange remote areas. I drove during the day and checked into our hotels before dark, something about those little backroads that was a little unsettling.
So this particular day we were driving from Clinton, NY to Saratoga Springs  about a 2 hour drive, I was incredibly tired, this college process, with the interviews, and tours can take a toll on you. We finally arrived at the Hilton Garden Inn in Saratoga Springs, and I am greeted at the front desk, I do the typical routine present ID, credit card and my hotel confirmation number, only to be told that the hotel is completely SOLD OUT. Now remember I have been driving all day, I have to be at another school first thing in the morning, this is not what I wanted to hear.
All I got was an apology, a couple of gift cards and a reservation at another place in the town, but for some reason, something just did not "feel" right. I took my complimentary water and got in the car, when I saw a man getting out of a car with luggage, I watched as he entered the hotel, followed by yet another man also carrying luggage, I get out of my car and go back in the hotel and I observed both men getting rooms.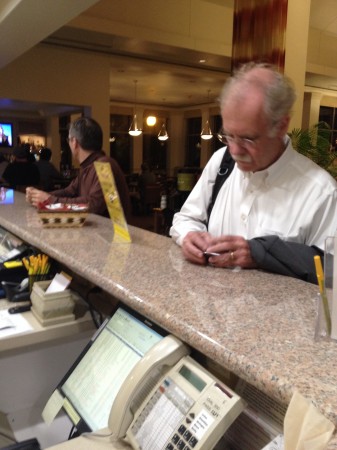 "Do you need something?" the clerk says. She comes toward me, as if she does not want me to see the men getting their keys from her co-worker.
Before I knew it this is what came out of my mouth. "Did you not give me a room because I'm African-American? "What is going on here…" You said you were SOLD OUT!" I said shaking my head and taking pics with my phone.
"NO, NO , NO, you're making me feel so baaaaad- I'm so sorry I lied." she says. "I have to give the corporate guests the rooms first. That is what we are told to do." she says nervously watching as I continue to take pictures.
Now I'm feeling disgusted and sick to my stomach, I'm not sure if it was a racist thing or what considering the 3 men checking in were all white, so I go from sad to mad and I tell her I'm not leaving. So she then says, "I'm going to call my manager and see what she can do…"
Moments later she comes back. "We have a one bedroom suite we can give you." she says. "And free dinner, drinks, breakfast and anything else you want."
I take my key and go to the room and ask myself "why?".
Why does everything have to be so difficult? I just wanted to check into my room like all the other guests. I'm paying the same $200 plus dollars, I'm not in a set aside hotel room program. Maybe it was not "race", but I'm willing to bet if I were a blond mom traveling with her son, I would not have been turned away. I would have been upgraded to that one bedroom suite, no questions asked…
Happy Tuesday,
Xoxo,
Gigi
Related articles