I really want to organize my home, especially my closet. No more shopping until I "cleanse" my closet. Easier said than done! 2013 is the year of simplification, if I am going to "make every day count" I can't waste time searching for stuff in my closet. Figuring out what pieces work for my life and getting rid of things that no longer work for me is the goal. Here is my plan of attack:
1. See what I have and take inventory.
Major editing is needed, everything is squished together and difficult to find.
2. Take everything out and get rid of items that have not been worn for 2+ years unless it is something special.
Do I love it? Do I feel good in it? Does it work with my lifestyle? Does it fit today? If Yes to all of these questions, it is a keeper. I'm going to treat my closet like prime real estate, only items that are worth the space will remain. The rest will go into piles: A) Goodwill/women's shelter B) Consignment/girlfriend swap                  C)  Alterations D) Trash
3. Rehang and fold items and organize by color and style.
4. Shoe-mania-same rules apply, with the addition of comfort level. Do I really want to wear a shoe that I have to take advil before wearing?
I know this project will take a few evenings, but the time I  will save will be worth it. I want a stress free environment for 2013–quality versus quantity.
Are you a hoarder? do you still have outfits from college hanging around? Bridesmaid dresses? Special designer collaboration dresses from Target that you never wore? Mini skirts that have expired? Gloria Vanderbilt jeans? Sasson jeans? Tube tops? Maxi coats? Take a closet cleanse, get rid of that baggage that is weighing you down and share your techniques for purging.
Xoxo,
Gigi
My sweaters are all buried together, the ones in the back never get worn, because I can't see them.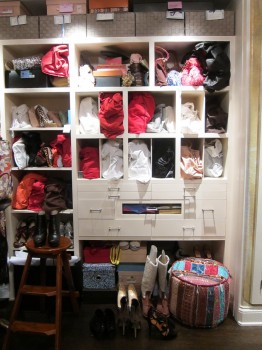 Purses are stuffed into the cubbies-not organized.
I love costume jewelry, but I need a way to keep it organized.
I picked this up at the Container Store, a great way to store flat shoes.
I store my workout clothes in this armoire, as you can see everything is mixed up, I really need to edit, I have workout clothes from way back…
Hopefully I will be done with this project in a week or so, I will share any magical discoveries on organizing and purging.