I have always loved theatre. Growing up my mother and I would have secret outings where we would go to dinner and the theater.  I remember reading the Calendar section of the Sunday, LA Times looking for plays for us to go to. Our evening would start at the Hungry Tiger, a seafood restaurant in Culver City, to a 12 year-old this was living.
"In the Red and Brown Water" by Tarell Alvin McCrany  now playing at The Fountain theater, is sensational. I am so glad I ran into a fellow theater goer friend who told me about it. "Red and Brown Water", is part of the brother/sister trilogy, which hopefully will be staged at the Fountain theater as well. The story is about Oya a young track star with a promising future. She has been scouted by the university with a scholarship offer to run track, a ticket out of the projects. Unfortunately her mother gets ill and Oya postpones college to be with her dying mother with hopes of going to college the following year, but of course there is no second chance. Faced with the hopelessness of her situation, she juggles two relationships, Ogun, a nice simple guy with a stammer who loves her, and Shago a womanizer that she falls real hard for.
The setting is a housing project in the Louisiana Bayou. I loved the device of the characters announcing stage directions before performing them. The names are all Yoruba and have meanings, Oya- goddess of the Niger River, wind and storms. The playwright explores mixing stories from two different cultures, Lorca's Yerma and Oba in Yoruba mythology. The space is so intimate you feel as if you are eavesdropping on your neighbors. Now playing at the Fountain theater 5060 Fountain Avenue, LA through Feb. 24. Thursday-Saturday 8PM Sunday 2PM tickets 30-34 323 663-1525.
Theodore played Elegba, Oya's play brother. We have had the pleasure of seeing Theodore in a few other productions around town.
Dorian Played Ogun, Oya's "nice" boyfriend.
Gigi highly recommends you go see "In the Red and Brown Water". I may go see it again, it was that good. All of the cast is phenomenal.
Afterwards we wanted to have a hot tea and my friend Blaine suggested we go to Tom n Toms in Korean town, a 24 hour coffee/tea spot. It was packed! We got our teas and sat outside, fortunately under a heater. This is a nice place if you find yourself in LA late and want a hot drink it is open 24 hours.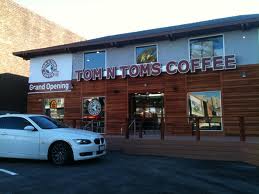 Happy Monday,
Xoxo,
Gigi