I love Michelle Obama-Mrs. "O", she has brought so much pizazz to the White House. Here she is sporting her new "bangs" which I love and a Zac Posen frock, one of my favorite designers.
Michelle is a fashion statement. I love that she wears color and has fun with her style. I can't wait to see what she will be sporting this next term. She stays true to what works for her, something that I try to do, sometimes getting it right and sometimes missing. She always shops her closet, never worrying about being photographed in the same dress, I like that being a big proponent of shopping ones closet. She wears high and low, J.Crew, BCBG, Tracy Reese, Jason Wu, Jimmy Choo, Rodarte, many times driving sales for various items. There is a blog that chronicles her outfits everyday Mrs-O.org that is one of my regular blog stops. Here are some of my favorite "Michelle" looks.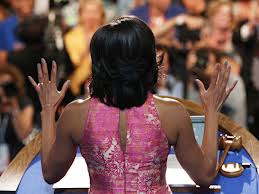 Looking forward to the start of a new term tomorrow. So proud of our President and his beautiful family.
Xoxo,
Gigi
Related articles