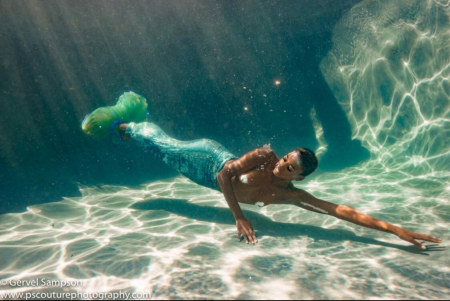 I have always loved the water, as far back as I can remember and that's a long time. I was the kid that on family trips to the beach I stayed in the ocean the entire time, just riding the waves.  A year ago on a whim I took an underwater photography class and fell in love! Both of my passions together, what more could I ask for…
After taking that class, I rented the housing for my camera to try it out in my own pool and I was hooked, I knew I  wanted to add this to my slate of specialities. So I made the hefty  investment and have been going down under ever since.
I have done numerous sessions now and I am still fascinated with the variety of results I get each time I do a shoot. Sometimes I'm photographing a dancer or a new swimmer, regardless of the person's skill set I love creating something unique and magical for each person. Depending on the time of day, weather, location in my pool, and my position, no shoot is ever the same. The light and shadows create a surreal little world.
I have quite a variety of "underwater outfits" that add to the experience, including shoes and various other props, everything potentially can go in the water…
Sessions go for 3 to 4 hours, I'm in the water the entire time, building a bond with my mermaids and sometimes mermen. I don't use scuba gear I just free dive and am able to hold my breath for a really long time, allowing me to position myself to get the best shots.
I have even done a few maternity sessions which were really fun. My "mom's to be" are so flexible in the water.
I'm dreaming about doing some sort of coffee table book featuring underwater images, another one of those bucket list items, so many of them. I have lots of sessions scheduled this summer and I know I will capture some incredible images- I'm also working on a new website to showcase my work so stay tuned.
Happy Tuesday-
Xoxo,
Gigi