Being a wise old 56 year-old, I was thinking about what are the things that are really important to me at this phase of my life. The do or die list. What are the things that contribute to a quality life after being on the planet a half a century or more. So this is what I came up with for me. In no particular order.
1  A pretty shoe that makes you feel beautiful when you wear it. I have quite a few…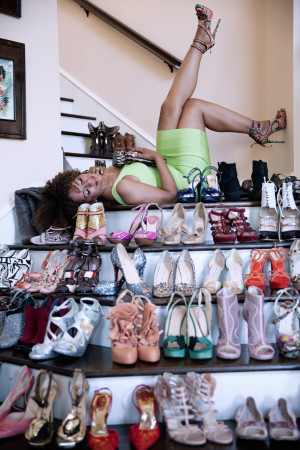 2 A nice watch- Yes we all have our phones, but a timepiece is so elegant and old school.
3 A Pretty signature lipstick- mine is one from Bobbi Brown Blondie Pink, that I love, it is the color of my lips.
4 A favorite "work" outfit. I have quite of few black items that I have picked up for work.(I wear black on shoots.)
5 Flowers. Learn to arrange- Have fresh flowers in your Living space. I can pick up fresh flowers anywhere and make them look fabulous.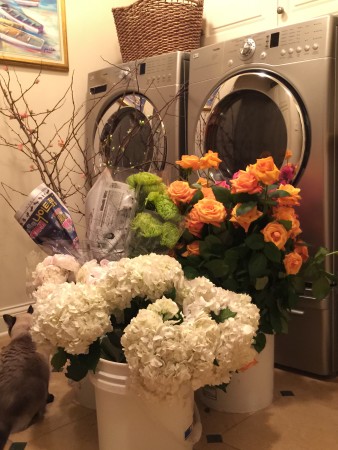 6 Purchase if you have not already, a piece of original art. It does not have to be from Christie's.
7 Heirloom jewelry that you can pass down to the next generation.
8 Signature scent. I love Tom Ford Cafe Rose and Bond No. 9 Nuits de NoHo
9. Hair you love.
10. Ability to say "NO"… or even "HELL NO".
11 A little black dress that you love. or 2 or 3…
12 Robust 401K- a retirement plan
13 Be a risk taker, especially if you have always been the predictable type.
14 Smile more.
15 Celebrate your birthdays in grand style.
16 Make time to read for pleasure.
17 Have a posse of trusted beauty providers i.e. manicurist, facials, waxer, hair stylist, etc. it takes a village at this age.
18 A current passport.
19 Make time for your friends, they are important for your well being.
20 Hydrate- drink water drink water and drink water…works wonders for your complexion.
21 Be supportive take time to listen to others and be as helpful as you can.
22. Don't give up and go to the "frumpy" lane…work on you style whatever it is…Don't give up- yes it does take a little longer to pull it together, but allow for the extra time. Get rid of logo track suits etc.
23 Keep up your appearance. see #22.
24 Mentor someone. Give some 20 something year-old the advice you wish someone would have given you…I was fortunate when I was in my 20's to have a few 40 year-old friends who saved me big time from stupidity.
25 Forgive yourself and others. Being "mad" wrecks havoc on your looks.
26 Be a little selfish and forget what everyone else wants you to be or do.
27.Be proud of your age. It is much more attractive then trying to pretend to be"young". Everyone can do the math- and when you avoid sharing your age- it is assumed that you are really "old" anyway.
28 Do something daily that makes you laugh- even if it is looking at a crazy video on Facebook or You Tube.
29 Be in love or open to falling in love without losing yourself in the process! It is never to late to find yourself,even if you are already lost.
30 BE HAPPY!
31 Be content with your body, weight, shoe size, bra size, jean size etc. OR Do something about it other than complain.
32 Have a pocketful of friends that you can depend on…
33 Have command of your well being. Do whatever it takes to be healthy- keep up good habits or start some now.
34 Have nice stationery and write notes and even an occasional letter to someone…we are not the texting generation-
35 Have the ability to bounce back from adversity.
36 Be able to handle rejection of any kind and keep it moving.
37 Good night cream and sun screen.
38 Minimal DRAMA.
39 A Cause you believe in- I love FACE Forward.
40 Have a love affair with your partner-
41 Continue to Dream-
42 Drink good champagne.
43 Stop living in the past and embrace the future.
44 Strength Train.
45 Travel.
46 Stay interesting.
47 Less is truly more.
48 Set goals for the next decades.
49 learn something new.
50 Don't be sad- You are alive and you woke up this morning- make the most of each and every day.
Happy Wednesday!
Xoxo,
Gigi